An interactive handbook for educators and community groups
The use of QR codes to provide information at tourist destinations and sites of historical interest is a well established practice in towns and cities as is the practice of businesses using them to display advertisements. Similar codes are also already used by some tech-savvy teachers; QR codes linked to photos and videos of work are printed and attached to pupil's workbooks, QR codes on classroom doors lead to the book of the week or a short video about the current topic. The codes provide an easy bridge between the physical and digital worlds.
The concept of OurTown is straightforward; turn the local environment into an interactive learning resource by placing educational challenges and community generated content, accessed through QR codes around the town.
Scanning a code presents you with a challenge. The challenges range from multiple choice quizzes to whole projects and change each time the same code is scanned. Challenge locations can be linked to form learning trails centred around themes such as careers, history, STEM and language
For example, in our local park in Pontypridd, Wales, a code at the bandstand links to a video of a brass band playing at a bandstand.  Another code links to a series of ever-changing challenges associated with the band stand; musical composition, an exercise in hypothetical event planning, the mathematics of the circular structure and paths leading to it, the history of public entertainment in parks, the science of acoustics. Over at the play park primary school classes are challenged to see how many people can fit on a giant see-saw; By the trees, to collect and sort sticks and leaves of varying sizes into sets; at the war memorial to reflect on the reasons for war and poppies and to see the photos and hear the stories told by their grandparents, by the bridge, a collection of artwork and poems written by school children.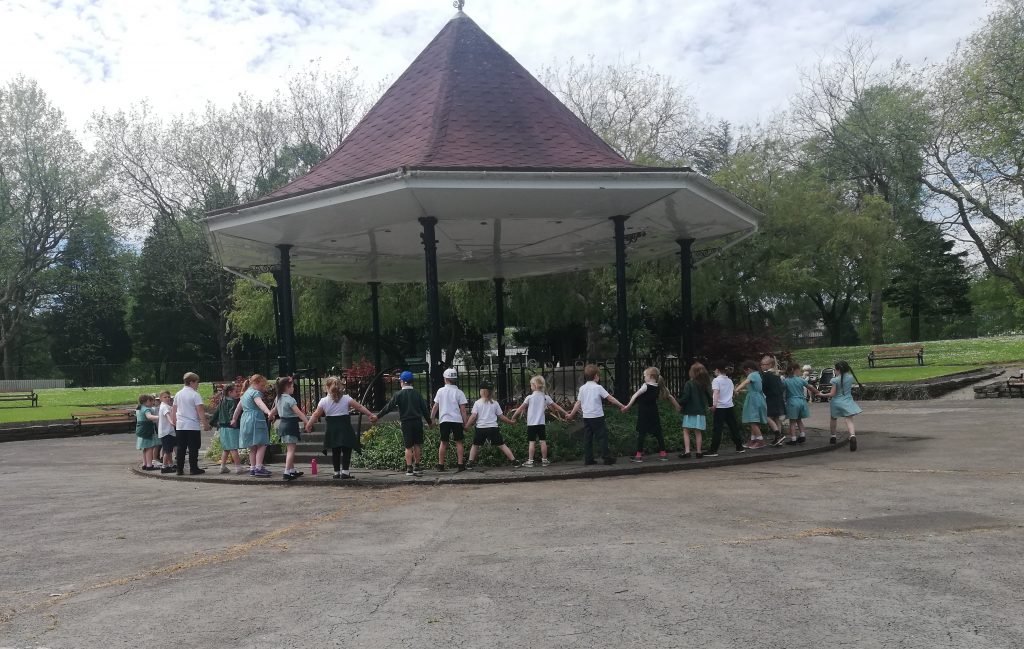 How many children are needed to hold hands around the BandStand?
Why Our Town?
This approach brings learning in situ to life, using technology to enhance the local environment and sourcing new ideas and knowledge from within the community. There is, at present, no other easy or affordable way to do this. Listening posts and notice boards are limited in the information they can share and also difficult to update. Other QR initiatives lead to static content. The OurTown approach is interactive, dynamic and inclusive.
Involving the Community
Everyone we have approached has been keen, enthusiastic to get involved and excited by the potential the project has to transform learning in the community.   In all involved countries we have talked to schools, teachers, community groups and businesses, all of these groups have provided their own ideas for the project.
The best way to involve the community is to get involved with existing community projects. A couple of days volunteering in the local community garden had our Welsh team in touch with local artists, new schools, and small businesses as well as being added to community learning networks through social media.
Attending meetings of other groups such as Friends of the Earth and the local Community Centre planning group gave us access to those activities and the chance to introduce what we wanted to do.
Helping out with local school eco and code clubs after school gave us a ready test bed of pupils without impacting on the teacher's existing workload, building on this initial work the wider school wanted to be involved and invited us to participate in school trips to the town.
Basically, the best way we have found to get the community involved is to get involved with the community.
Examples
Artis Community coordinate a number of community focused multigenerational arts projects, they are using OurTown to showcase the arts and crafts created by local people as well as collaborative costume and dance projects. OurTown codes are a great way to keep the work alive and show local people what they are capable of, hopefully inspiring citizens of all generations to participate in community projects.
Ynysybwl Paths and Trails are a small village ramblers association who take care of the footpaths and walks around the historic village. They approached the project after securing their own funding for way-markers. They approached the project and have worked with OurTown to create their own series of challenges linked to the heritage of the local area and history of the coal mining community. They see OurTown as a way to preserve their stories and pass information on to younger generations in a modern and fun way.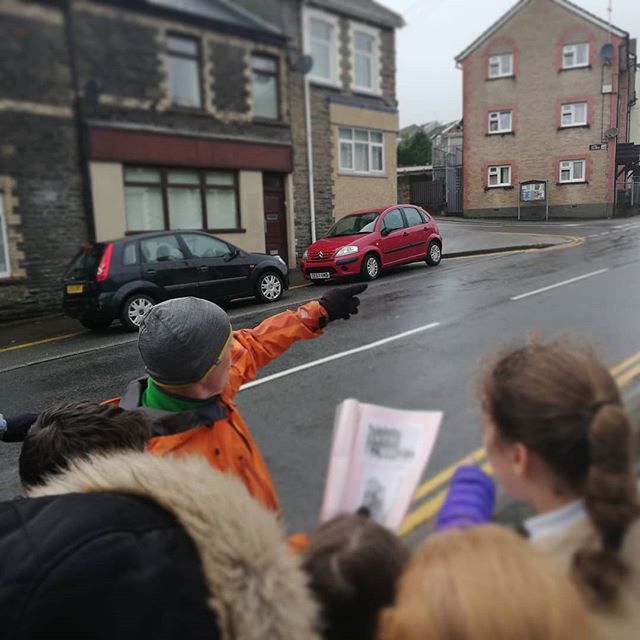 Tips
Find local groups with specialist interests, this way you will have a wealth of knowledge to create interesting challenges around a theme. In the Welsh village of Ynysybwl , the local 'paths and trails' group created challenges about the history of the surrounding footpaths.
Work with local schools, they will already have a space in the curriculum dedicated to exploring the local area and can both provide and test out materials.
Approach local businesses, they may wish to offer incentives for participation, one cafe in Pontypridd offered a free coffee for completing challenges.
Place codes aimed at younger children at their eye height rather than in sight of the adults.
Adding a new Challenge
The following playlist, one in each language, explains how to add challenges to the OurTown platform. Please contact us to find out more.